Motorboat Operator Certification Course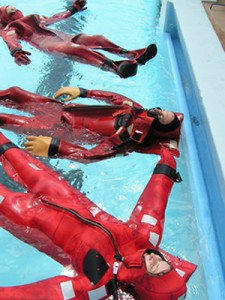 The Motorboat Operators Certification Course (MOCC) was developed by the Department of Interior US Fish and Wildlife Service to provide course  participants the training required to permit operation of service-owned watercraft. It reviews minimum requirements for safe operation of motorboats and includes a review of legal requirements, preparations, navigation, operations, emergency procedures, rescue, self rescue, trailering, fire suppression and basic seamanship. This comprehensive, 24 hours course includes both classroom and on-the-water instruction, taught over three days. There is an on-the-water practical exam during which the student must demonstrate certain skills to pass as well as a written exam.
More information can be found on the US Fish & Wildlife Service MOCC website. The SBSA has used the MOCC as a foundation for the development of a Motorboat Operator Training Course (MOTC) which uses the same standards and curricula, is generally provided to non-DOI institutions and members and depending on the agency, reciprocity may be limited. Contact the SBSA for more information on the MOCC, MOTC and other course offerings.
Documents For Teaching The MOCC
USFWS/NCTC Documents For The MOCC
These documents are prepared by the USFWS/NCTC. More information can be found on the USFWS website.
Flip Charts For MOCC Field Presentations
These documents are provided as an aid to field teaching the MOCC. Documents are apx. 24″ x 36″ color and should be printed full size and laminated for use during instruction. Kindest regards to James Fitzgerald of Bodega Marine Laboratory who created these documents by hand.