2000
In March 2000 a University of California researcher, his graduate student and three others died in a boating accident in the Sea of Cortez. The deaths caused many research institutions to evaluate their scientific small boat use and policies. While there were many well organized and established boating safety programs already in place, the evaluations found other instances where boating programs existed in a state of benign neglect from administrators that made funding/staff decisions. In some cases no program was in place at all. Many times, institutions found that:
Many boating programs were informal.
Documentation may not have been complete.
Training was on an as needed basis, with few curriculum or instructor qualification guidelines.
Often there was no clear responsibility for safety issues and equipment maintenance.
Funding issues were common. In some cases there was no dedicated budget for boating at all.
Many other institutions were struggling with the same issues.
2005
After years of frustration by many individuals trying to get their home campuses to address boater's needs it was decided to get the administrators of programs that had boat-supported research together to share ideas and strategies. A three day meeting was held at the University of California's Bodega Marine Laboratory in March 2005 to discuss these and other issues. The objectives of the workshop were:
To bring together those teaching small boat courses to share ideas and methods.
Comparison of institution's curriculum & guidelines.
Discuss risk management concerns.
Reciprocity for boaters moving between institutions.
Begin discussion to come to a consensus standard for small boat policy.
The workshop was attended by 23 representatives responsible for vessel operations at 14 different research institutions and government agencies on the west coast. Many of the objectives were met, including a draft of a generic boating safety manual with recommendations for the following:
A boating safety committee.
Academic training requirements.
Hands-on training requirement.
Equipment maintenance program.
The participants also agreed to form an association of west coast regional boating safety programs to address common issues. Membership is comprised of organizations that have boat-supported research programs. The group was originally called the Pacific Scientific Boating Safety Association. The goals of this group are to:
Reach a consensus set of guidelines.
Standardize basic training for operators.
Allow reciprocity between institutions.
Provide support for those institutions that do not yet have a boating safety program.
An additional goal is to be able to reply to the US Coast Guard that scientific boating has standards, and is self-policing should they ever ask. Hopefully avoiding possible onerous federal standards being imposed on researchers who use small boats (such as requiring a USCG licensed captain on every boat).
With lines of communication opened, and progress being made, a second meeting was held at UCSC's Long Marine Lab in July 2005. At that meeting the group continued to:
2006
The next meeting was held at Hubbs Seaworld in San Diego. The SBSA Boating Safety Guidelines was approved (see 2016 Boating Safety Guidelines PDF). It was also decided to form a non-profit association. The name was shortened to Scientific Boating Safety Association (SBSA). By becoming a formalized association the SBSA benefits because:
Following consensus guidelines reduces risk management issues.
Standardized training increases safety for students and researchers.
Reciprocity simplifies inter-institution projects and boat operator qualification.
The SBSA would have a stronger voice when representing scientific boating in discussions with federal and state agencies.
Allow growth and increased membership from other national regions.
Aquarium of the Pacific in Long Beach, CA hosted the next meeting in May 2006. Significant landmarks of this meeting were:
2007
A meeting at UCSB was held to discuss progress on the formation of the association as a non profit and other business matters. Training classes were discussed and offered. The articles of incorporation were signed by the steering committee members at a meeting at the UCSF Romberg-Tiburon Center in July 2007. The articles have been sent to the California Secretary of State. Other business included a preview of this website. At this time the SBSA has:
Established communications between different research institutions to facilitate safe scientific boating, sharing of ideas & methods, and reciprocity procedures.
Filed articles of incorporation with the state of California.
Approved bylaws.
Elected officers.
Adopted a consensus set of standards and guidelines for operation of a boating safety program.
Approved a consensus curriculum for basic boat operator training.
Designing a website.
The next steps for the SBSA include:
Application for Federal non profit status.
Gathering information and techniques for specialized boating operations and areas and having that information available on the website.
Gaining NASBLA approval of a SBSA boating course.
Increase membership to include other regions of the country.
Advocating for institutional support of safe boating practices including adequately staffing and funding boating safety programs.
Primary Goals Gathered From Our History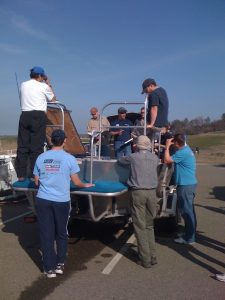 The members of the SBSA believe that boating safety should be adequately staffed and funded and that the individual institution's local programs should include:
A Boating Safety Committee. A group of knowledgeable individuals who have oversight of vessel operations.
A Boating Safety Officer. A person(s) specifically responsible for boat safety, operator training, and administration.
A BoatingSafety Manual. A document that outlines purpose, responsibility, administrative procedures, and safety guidelines specific for each institution.
Academic Training requirement minimums including one of the following-Proof of training from a nationally recognized organization-Completion of classroom training and passing score on a written exam-Significant experience and passing score on a written exam.
Hands on training requirements to include at least-Launching-Engine operations and maneuvering-Anchoring-Man Overboard-Emergency Procedures-Equipment Maintenance Program-Record keeping.