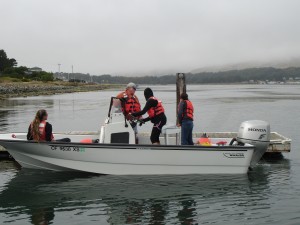 Who We Are
The Scientific Boating Safety Association (SBSA) is a non-profit organization dedicated to facilitating safe boating practices and to minimize accidental injury among those using boats for research and training. To meet this mission, SBSA members provide or make available initial training and refresher courses, share expertise, advice and recommendations, formulate guidelines and procedures, and publish a safety manual with appendices for local areas. Our goal is to ensure that scientific boating is conducted in a safe and effective manner.
Individual Membership
Scientific boaters and educators not affiliated with an Organizational Member as well as those with research boating experience now have a say in national scientific boating policy.
Membership is $25/year. Individual Members do have a vote in SBSA policy and BoD elections.  Click here for the application form
Organizational Membership
With an Organizational membership base encompassing the entire United States, the SBSA is the largest, most influential scientific non-profit boating organization in the world. SBSA has achieved it's prominent position through effective advocacy enlightened leadership, technical competence and hard work.
Download The SBSA OM Application Form
For more information on becoming a member, please contact the Scientific Boating Safety Association.
Election Results – Vice President John Douglas (MLML) & Board of Director member Eric Hessell (UCSB) were re-elected to their positions. Congratulations gentlemen.
National Safe Boating Week is over – but keep safe
May 18 to 25 was National Safe Boating Week. (They should all be) We hope you took time to check your vessels, safety equipment, the trailers or cradles the boats sit on, and the crane, davit, or truck you use to get it into the water. If you are fortunate enough to work where the weather and water allow for year-round boating a day or two set aside now for a complete inspections & maintenance may save you some trouble & embarrassment this summer.
Check the readiness of your crew and accident management plans. Are you and your crew current in 1st aid & CPR? Have you practiced MOB skills & person recovery lately? Have you discussed what actions to take in other emergency situations (grounding, engine failure, fire etc.) with all crew members recently? Is the information on your emergency contact sheets still accurate? Don't let complacency become part of your routine.
Spring is when many new boaters are looking for training opportunities. For many boating program managers this can be an exasperating time with trying to get administrators to provide funds, find time and coordinate schedules, ensure boat(s) and safety equipment are ready to go. Sadly many organizations still will not require hands-on boat operator training, like they do for fork lifts, AV equipment and other terrestrial equipment. This is doubly sad because people have been injured and have died working on boats without proper training.
SBSA members have been working to change the attitude that scientific boating is "fun". In the best of times/conditions boating, especially when you have a job to do, is a complicated endeavor requiring attention to detail; crew coordination and communication, all in an environment that can change quickly with complicated, expensive equipment that can break suddenly.  And yet new boaters sometimes have little more guidance than "here's the keys, don't forget to fill it up when you get back." It's a wonder so many of us have survived.
We formed SBSA so organizations would have examples of policy, training and operational guidelines to use to make their programs more safe. We have found that institutions can provide training for more prospective boaters by cooperating and pooling resources. While one agency may not have the ability to properly train new boaters on their own, by working together with other institutions they can share instructional staff, vessels and training aids. Not only do more people get trained with a wider variety of equipment and techniques but they may meet other boaters with the same research interests. It is a win – win.
With this cooperative sharing of resources and techniques in mind, it was mentioned to me at the business meeting this winter that SBSA should have regional branches. This would allow our message of responsible boater training to spread. Other small, underfunded training and oversight programs, such as scientific diving, have found that getting together in regional groups such as DSOs in California, and the Southeast allows them to get much more accomplished than they would individually. It is this spirit of "networking" to solve problems and discuss common issues that brought the founding members of SBSA together in the first place.
The SBSA BoD will be discussing how we can get more involved regionally and be more supportive of all programs throughout the country. If you have any suggestions please send them to us. And in the meantime if you haven't developed a good working relationship with boating programs at other institutions in your region, the upcoming off-season might be a good time for that.